OUR SERVICES
Right from the outset Fashion Biz recognised the need to provide backup and support to its customers for its products and services.
Stock Service
Each of our warehouses currently holds around 5,000,000 stock items at any one time. However, a process is in place which monitors stock levels against actual stock held as well as predicted future stock movements. This ensures that we rarely, if ever, run out of stock on any item.

Made-To-Order Custom Service
We have a fully staffed production department which oversees custom orders from concept through to completion. This department has access to our graphic design division which is available to customers to create line drawings and mock-ups of custom designs complete with logo design/placement and colour-up.
Quality Assurance
We have a fully equipped QC laboratory at our NZ head office which ensures that our products not only comply with, but exceed their defined set of quality criteria as well as the requirements of our customers. This is in addition to external QC checks carried out at source.
Print
Fashion Biz produces a full-colour high resolution print catalogue for each of its product ranges, showcasing each product/style worn on a professional model as well as the various colour options and sizes across gender (Mens, Ladies, Kids).
On-Line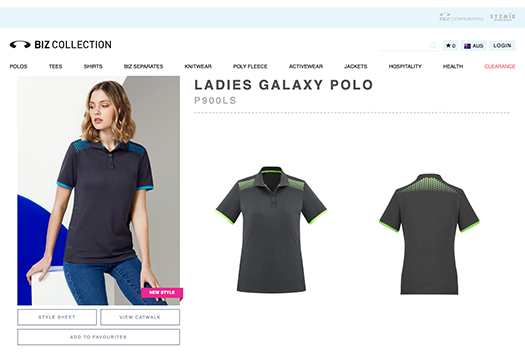 Each product line has a custom-built web site to complement the catalogue, featuring secure access for distributors using user-login functionality while allowing end users to browse the content. We also produce catwalk videos with models showcasing each style on a custom-built catwalk to further assist our customers to visualise our products in a real-life environment. Logged-in users have access to all our marketing tools including a digital fitting room, as well as an online ordering facility.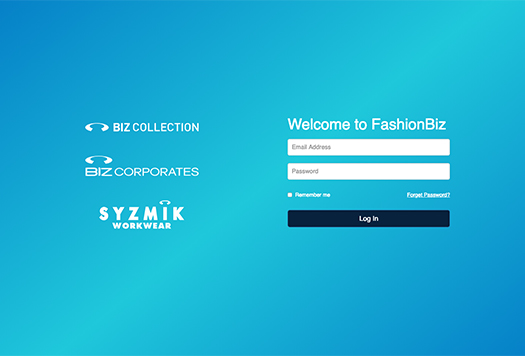 Our online ordering system links directly with our in-house accounting / inventory system. This allows our customers to access information on stock availability, etc. on-the-fly, allowing them to make instant decisions while placing orders. Since all of our electronic systems are custom-built, we have the ability to allow specific custom access to any customers with very little lead time, allowing those customers access to any specific requirements and/or information they may require from us, including their specific pricing.
Customer Service
A team of customer service consultants checks and processes each order received via our open-source ticket request system, both online and by phone/fax. The customer service department also liaises with customers to resolve queries and provide any information that is required, and works closely with the warehouse pickers/packers to ensure that orders are processed and dispatched accurately and on time.
Logistics
Our supply chain has been designed specifically for receiving multiple containers, efficient upload and storage within our warehouses, as well as streamlined pick/pack systems, and is capable of distributing large and small volume garment orders on time.
We have an automated WMS (Warehouse Management System) and integrated ILS (Integrated Logistics System) in our warehouses to facilitate management of our daily planning and utilization of available resources, enabling us to satisfy the demands of customers and their unique requirements.
Warehouse KPI's are monitored regularly, including efficiency and accuracy to maintain the appropriate balance for our customers. Our results are measured both qualitatively and quantitatively against other supply chains to ensure we maintain a competitive edge.
Fashion Biz has in place KPI's to measure error rates, QA and reason codes and order turnaround times, among other important statistics.
Regular reviews of cost of transport providers is undertaken to ensure that Fashion Biz is receiving market or better freight rates.
Fashion Biz have developed in-house skills in WMS management which provides a paperless warehouse.
Storage capacity is maximized through dynamic product locating.
The system provides a good balance between efficiency and accuracy through the use of RF scanning technology, with automated pick cross-checking also providing real time inventory transactions.
Inventory reporting can be provided on a daily, weekly, or monthly basis to help with forecasting repeat stock orders.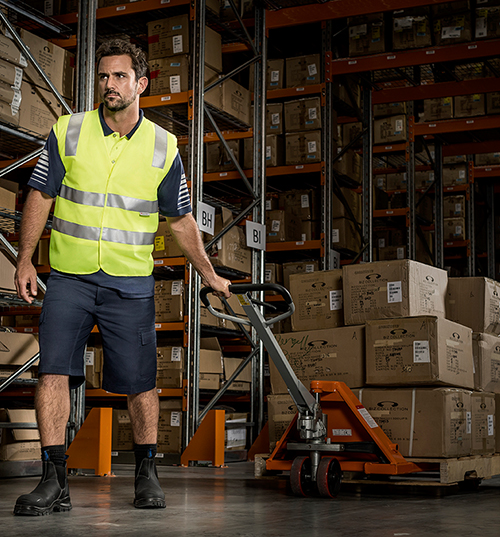 Receiving/Dispatch
We receive on average 5 to 6 containers of stock each month (a mix of 20ft and 40ft containers) at each of our warehouses.
Both inbound and outbound goods are handled by highly experienced teams of trained warehouse personnel.